121114 Girls' Generation Holds Brief Fanmeet and Performs at 'SBS K-Pop Super Concert in America'
Update: Exclusive photos from Soshified
Check out Soshified's exclusive photos from the fanmeet with Girls' Generation and their performanceat the "SBS K-Pop Super Concert in America".
On November 10th, Girls' Generation held a short fanmeet and performed at the "SBS K-Pop Super Concert in America" held at the Verizon Wireless Amphitheater in Irvine, California.
Girls' Generation's day began with rehearsals for fans who purchased VIP tickets to the concert. Fans watching the rehearsal were able to see Girls' Generation practice the four songs they would sing later that night.
Afterwards, Girls' Generation held a brief fanmeet for lucky VIP ticket holders in a small tent located in the vendor circle. The members were fully dressed in their outfits and makeup for "The Boys", stunning the fans in attendance with their beautiful looks. The fanmeet began with a photo opportunity where fans were allowed to take as many photos as they liked, and the members of Girls' Generation kindly smiled and posed with cute expressions for the cameras.
The moderator and Girls' Generation then asked the audience for the fan who came from farthest away to see the concert, and the winner, a fan who flew from India, received a signed copy of Girls' Generation's "The Boys" album. Afterwards, a dance contest was held with four fans, and the members decided on a winner who was able to take a group photo with Girls' Generation. Finally, the moderator asked that all the fans turn around and face the same direction as Girls' Generation in order to take a large group photo, though many fans could not bring themselves to take their eyes off the nine beautiful members.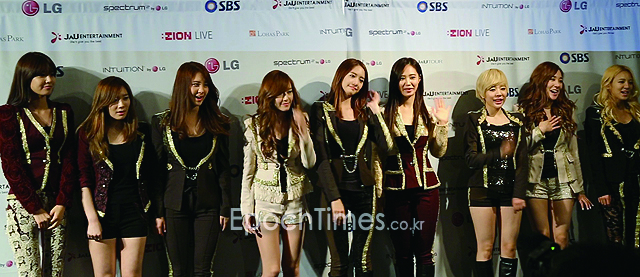 After the fanmeet, Girls' Generation posed for photos at a red carpet event for members of the media. The concert began soon afterwards, with Tiffany, CNBLUE's Yonghwa, and B2ST's Kikwang serving as MCs. Tiffany, who looked beautiful adorned in a gorgeous dress, spoke in both Korean for the concert's broadcast in Korea at a future date and in English for the primarily English-speaking audience. Though the weather was slightly chilly, Tiffany, Yonghwa, and Kikwang warmed up the audience with their jokes and ad-libs, creating an exciting atmosphere. Tiffany also mentioned that her family was in the audience watching the concert as well.
Other performers at the "SBS K-Pop Super Concert in America" included 4Minute, SISTAR, Karmin, CNBLUE, KARA, B2ST, and 2NE1. Girls' Generation was the last group to perform and sang the Korean versions of a remixed version of "Genie", "MR. TAXI", "Run Devil Run", and "The Boys".
The concert ended with all of the performers on stage, and Tiffany, Yonghwa, and Kikwang led the artists in giving a thank you to the fans who attended the concert and cheered for them throughout the night. Together, the nine members of Girls' Generation also waved goodbye to the audience before leaving the stage.
Fantaken photos from the "SBS K-Pop Super Concert in America"
Written by: bhost909@soshified